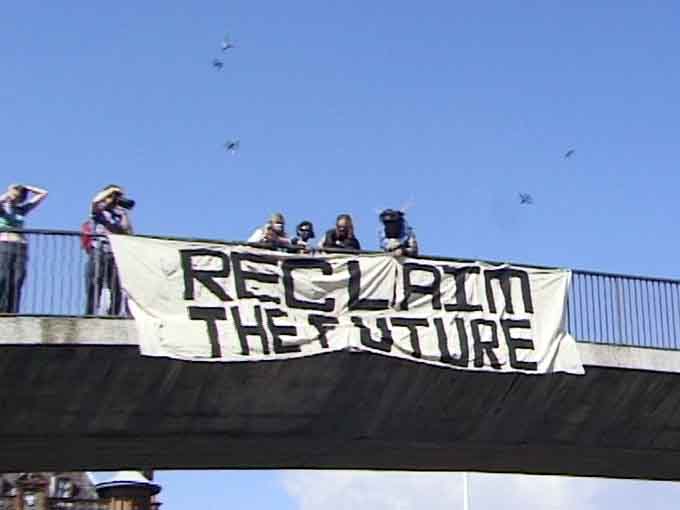 ANOTHER WORLD IS POSSIBLE
We are witnessing the death throes of Democracy. A Democracy which has been reduced to a rich man's game of charades, where money + media manipulation determine the winner, and the winner answers to his investors, not his ever shrinking electorate. There is no Voter Apathy, only the rejection of a morally bankrupt political system, which hears only the demands of market forces and the language of capital. Worldwide, people are shaking the foundations of Society. Taking to the streets, forming a Global Grassroots Movement to bring the Power-mongers to heel.
· We live in a world where 34,000 children under five, die every day, from poverty related causes.
· We live in a world where four fifths of the worlds wealth is owned by one fifth of it's population.
· We live in a world which is being polluted towards extinction.
IT DOESN'T HAVE TO BE LIKE THIS!
Our Government's answer to our problems is to declare War. A war to enforce military and economic domination. A war on our right to dissent. A war on freedom. A war to boost the profits of a nose-diving economy. A war that uses the deaths of innocent civilians in New York, to justify the deaths of innocent civilians wherever it sees fit.
NEW WORLD ORDER? NOT IN MY NAME!
In the face of this TERROR the people organise, resist, defy, laugh, sing, shout, and cry, to move the social and political map beyond the narrow margins of profit. Mayday has always been a day for this. A day to come together in an active show of resistance and solidarity. Celebrating the strength of the ordinary everyday person to create extraordinary momentous changes.
LETS MAKE GLASGOW MAYDAY A DAY TO REMEMBER.
There are no organisers only groups of active participants. Old, young, you, me, us. Whatever you want to see happen-create! The request is that we do not mimic the tactics of oppression and our actions remain non-violent, the rest is up to you.